Next "Amapas Night Out" 
The Kinsey Sicks at Act II
Thursday December 19, 2013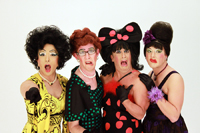 Looking for a saucy antidote to holiday wholesomeness?  Join your neighbors in being scandalized by the hit holiday dragstravaganza, "Oy Vey in a Manger" by North America's Favorite Dragapella Beautyshop Quartet, The Kinsey SIcks.  Come watch the gals try to sell off their manger – yes, that manger – before it's foreclosed upon. Crises arise, secrets are revealed, Jewish-Gentile tensions surface, and mayhem ensues – all in glorious harmony.    The Kinsey Sicks have been praised by The New York Times for their "Voices sweet as birdsong" and by Variety as "inventive…riotously funny..sublime."   General Admission seats normally costs 300 pesos, but 
ANA members can buy tickets for only 240 pesos for the show on Thursday December 19!  Plus, The Kinsey Sicks have agreed to donate 10% of the ticket price to the ANA.
  So you can have fun, meet neighbors, save money, and contribute to the ANA all at the same time!
The show is at 7:30 in the Red Room Cabaret of Act II Entertainment, at the corner of Basillo Badillo and Insurgentes (above Wings Army) in the Zona Romantica.  To get your ANA discount, go to http://www.vallartatickets.com/ and type in the discount code "Amapas".  You can also buy tickets at the Box Office of Act II Entertainment, open daily from 6 pm.  
We recommend that you get your tickets soon, as the show is likely to sell out!
Note: Any resemblance between Rachel (The Kinsey Sicks' most foul-mouthed performer and chief lyricist)  and respectable ANA Board Member Ben Schatz is strictly coincidental and potentially libelous!